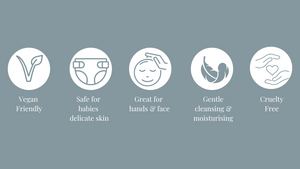 You can use this refill option to refill our aluminium tins or any other suitable container you may already have at home. 
Simply melt in fresh boiled water and pour over clean reusable wipes.
Pop a Poppet into a jug and add freshly boiled water. Leave for 30 seconds and stir well until fully dissolved. Place clean dry wipes into a heat safe tub and pour over the Poppet solution. Leave to cool before use. Store wipes in a suitable container and re-make every 2 days. One Poppet will make between 400ml-1000ml of solution.
It's the easiest way to make up wipes.
See our 'How To Use' section for a demo on how we recommend use. 
Certified safe to use once baby is 1 month old. Just plain water on cloth wipes is recommended for the first month.
Named Original as it was the first scent we fell in love with and it works so well on our baby wipes - the scent is fresh and clean with calming chamomile and lavender.
Each Original refill pouch contains 20 'all-in-one' eco friendly pods made with our special blend of shea butter and coconut oil that make up a beautiful, heavenly scented cloth wipe solution to leave your wipes luxuriously soft and smelling divine. 
We have gone to great efforts to make a luxury eco product using natural ingredients that are SLS, paraben, palm oil and cruelty free.
The refills come in a kraft paper pouch made from renewable materials that can be resealed with a zip lock top. The pouch is fully compostable and 100% biodegradable in 10 weeks.
Glycerin, Aqua, Butyrospermum Parkii butter, Sodium Stearate, Sorbitol, Sodium Oleate, Cocos Nucifera Oil, Sodium Laurate, Sodium Myristate, Sodium Chloride, Sodium Citrate, CI 77891,CI 51319, CI 74160 Parfum
---